Drop what you're doing and make these cookies right now. They are seriously the most AMAZING chewy and spicy oatmeal raisin cookies you'll ever eat! They're probably my family's absolute favorite homemade cookie recipe.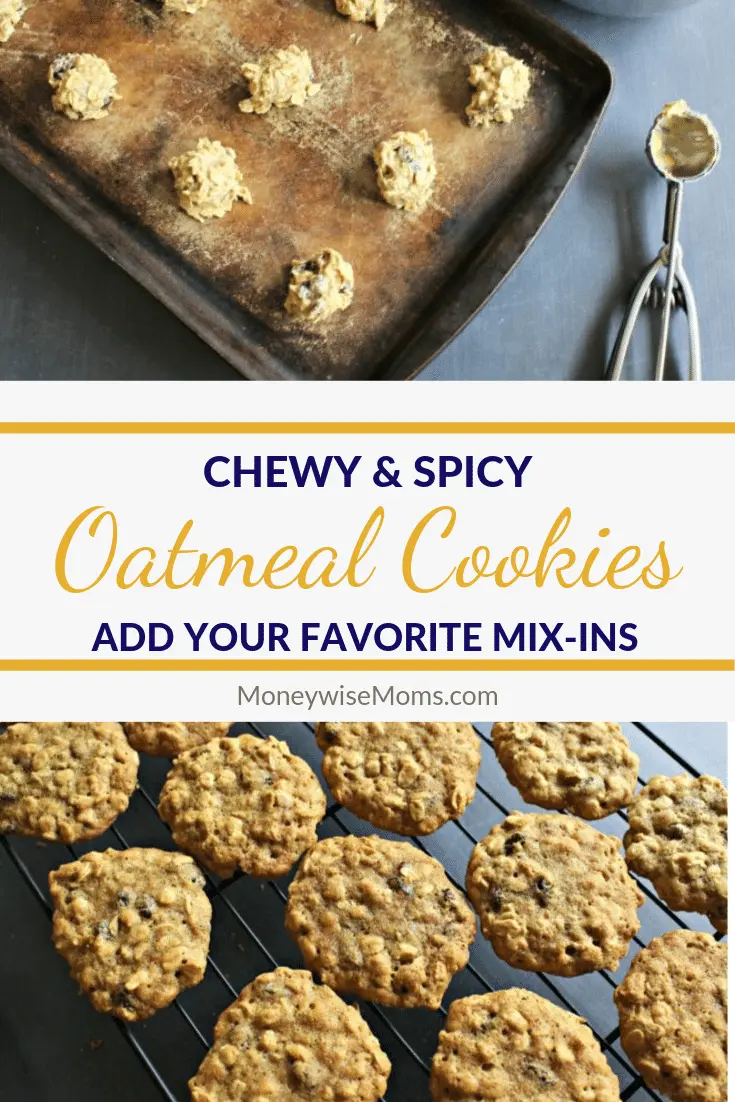 This post contains affiliate links. That means that if you make a purchase after clicking on a link, I earn a small commission at no extra cost to you.
Why I love these oatmeal raisin cookies…
Cooler weather puts me in the mood to bake. I love how the whole house smells so good and how the oven heats up the kitchen.
We bake often so there are treats for the kids to put in their lunchboxes or have as after school snack. These spicy oatmeal raisin cookies are one of my family's favorite recipes!
This recipe is actually quite versatile. Sometimes, I use dried cranberries instead of the raisins. Delicious! Or, I skip the nutmeg and cloves and replace the raisins with chocolate chips.
Our favorite part of this recipe is the cookies' texture. They're so chewy but the edges have that little crispiness. I just love it!
Chewy and Spicy Oatmeal Raisin Cookies
Sometimes you're in the mood to bake cookies, but you didn't plan ahead. Use these tricks to soften butter quickly.
Why do you call them 'spicy' oatmeal raisin cookies?
Good question! These are not spicy as in hot sauce…they're spiced with cinnamon, cloves and nutmeg! You could leave those out if you want but I think they give these cookies just the right about of flair. The smell while they're baking is divine and makes me feel so happy inside.
How do I make these delicious cookies?!
I'm so glad you decided to make these cookies. They're incredible and you won't be disappointed. Check out this quick and easy recipe:
Cream the butter and sugars together with an electric mixer. Add the eggs and vanilla.
In a separate bowl, combine the dry ingredients (minus the oats and mix-ins). Add dry to wet ingredients.
Add the oats and mix well. Then, add the raisins to the oatmeal cookie batter.
If you're not a fan of raisins, just choose another mix-in. Dried cranberries, nuts–they're all good! I usually make a few plain for my daughter who doesn't like raisins, too.
Next, I use a cookie scoop to get the cookie batter onto the baking sheet. But you don't have to! Just use a regular spoon to make oatmeal raisin drop cookies.
I bake using Pampered Chef stoneware because I like how it browns evenly on the bottom. If you're using traditional cookie sheets, use some parchment paper to keep the dough from sticking afterward. It makes clean-up easier, too!
Help, I left them in too long and they got overdone!
Now it's time to bake! Inevitably, I will let one of the batches go too long because I get distracted by something. Sigh.
When that happens, I call them "dunkers" and they're perfect to dip in a cup of milk, cup of tea, or cup of hot chocolate.
How do I bake these oatmeal raisin cookies so that they're perfect?
What you're really aiming for is slightly under-baked centers. I know it seems counter intuitive to under-bake cookies on purpose but really it's what gives these delicious cookies the right taste and texture.
The cookies will solidify as they cool. So pull them out when they're golden brown.
Should I cool these cookies before serving?
If you can wait that long I applaud you. The smell usually gets to me and I can't wait. But it's best if you can give these cookies about 5 minutes to cool on the baking sheet before you pull them off and put them on the metal cooling racks. These are my favorite!
Leaving them on the baking sheets for those extra five minutes lets them finish cooking, setting up, and the crispy edge magic happens here as well. It's a vital step in making sure these cookies come out perfectly I think!
What kind of texture do these cookies have?
I know everyone likes their cookies a different way. In my experience these oatmeal raisin cookies are best when they have a soft but also chewy texture. The real perfection of this recipe is how soft and chewy the texture is–when you bake them the right amount.
They'll be chewy in the center with crispy edges which is just perfect. Oatmeal raisin cookies can go from chewy and delicious to rock hard in very little time, so I think it's key to watch them and make sure you pull them out when they're just turning golden brown.

Do you have any other cookie recipes I can try?
I sure do! Here are some of our other favorite cookie recipes. Make any of these to accompany your oatmeal raisin cookies on your next cookie tray.
Printable Spicy Oatmeal Raisin Cookies Recipe:
Yield: 4 dozen
Spicy Oatmeal Raisin Cookies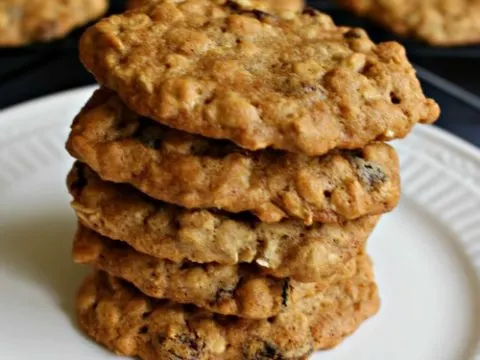 Ingredients
1/2 cup butter, softened
3/4 cup brown sugar
1/2 cup white sugar
2 eggs
1 tsp vanilla
1 1/2 cups flour
1 tsp baking soda
1 tsp ground cinnamon
1/2 tsp nutmeg
1/2 tsp cloves
1/2 tsp salt
3 cups old fashioned oats
1 cup raisins
Instructions
Preheat oven to 350 degrees.
In a large bowl, beat butter and sugars with electric mixer until creamy.
Add eggs and vanilla, and beat well.
In another bowl, combine flour, baking soda, cinnamon, nutmeg, cloves and salt.
Add dry ingredient to wet ingredients, and mix well.
Add oats and raisins.
Drop dough by rounded spoonfuls onto ungreased cookie sheets. Bake 8-10 minutes or until light golden brown. Cool 5 minutes before removing to cooling racks.
Recommended Products
As an Amazon Associate and member of other affiliate programs, I earn from qualifying purchases.
Nutrition Information:
Yield:
48
Serving Size:
1
Amount Per Serving:
Calories:

83
Total Fat:

3g
Saturated Fat:

1g
Trans Fat:

0g
Unsaturated Fat:

1g
Cholesterol:

13mg
Sodium:

70mg
Carbohydrates:

14g
Fiber:

1g
Sugar:

7g
Protein:

1g