With naturally curly hair in both parents, there was no doubt I would have curly girls. Here are my tips and techniques on how to manage curly hair.
This post contains affiliate links. That means that if you make a purchase after clicking on a link, I earn a small commission at no extra cost to you.
When I was a little girl growing up in early '80s, I enjoyed styling hair on a popular toy of the time: The Barbie Head. Did you have one, too?
My mom believed in a "low maintenance" approach to my crazy curls by making me have a short haircut all my life, so this was really the only practice I got doing hair. Now I have two curly girls to deal with!
Unlike that Barbie Head, my curly girls do not sit still! My twin daughters both have terrible tangles.
As toddlers, they'd tear out any barrette/headband/clip I tried to use on them. In preschool, they'd give in to an occasional barrette but they were immediately removed as class was dismissed.
Now, at age 9, they still prefer a natural bedhead look than any time spent on personal grooming. It is not as easy or fun as the Barbie Head.
So it's taken a few years, but I finally have my curly girls' hair under control, for the most part. Today I'm sharing my Top 3 products and some techniques that work really well for us. This is how I manage my girls' curly hair!
Top 3 Products for Curly Girls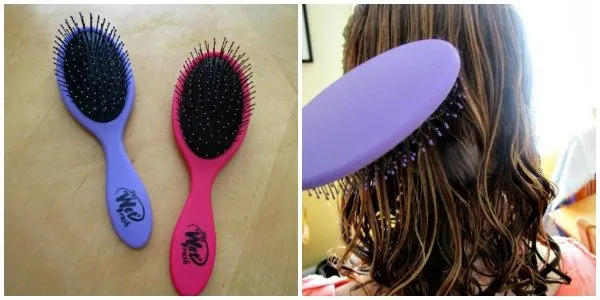 The Wet Brush
I'd seen The Wet Brush around and assumed it would only work with straight hair, but my stylist suggested I use it on the girls' hair. Really? On their curly, tangly hair?
Turns out it's a miracle–it glides through wet hair and takes all their knots out, and it doesn't even hurt! With this brush, they are able to comb out their own tangles for the first time in all these years. YAY!
Wide-Toothed Comb
A wide-toothed comb is key for managing curly hair, and I still use it for making parts and sectioning off hair. After sleeping on clean hair overnight, we use it the next morning as a "pick" to set their hair again.
Hair Milk
This leave-in conditioner has made such a difference in my daughters' hair. After they shower and we comb/brush through the tangles, they apply Hair Milk.
It gives them so much softness and lets their curls dry naturally. I originally found it at Target but it's less expensive at Amazon, so now I buy a few bottles at a time so we don't run out.
Techniques to Manage Curly Hair
After all these years of struggling with the curls (first mine, now theirs!), we've found a few techniques that work really well:
Wash Hair Less Often & in the Evening
It takes too much time to detangle and deal with their hair in the morning before school, so we've stuck to a schedule of showers in the evening.
They only wash their hair every other day, so it doesn't dry out too much (same thing I do with mine).
Then, they each comb out their tangles with the Wet Brush. This has been such a helpful tool in helping them gain independence dealing with their own hair.
Do the Twist
One issue we have is that the hair on top dries and sits on top of the curlier hair underneath (it looks like a shelf but I couldn't get a good picture).
The best technique to deal with this is to twist the hair by section while it's still wet. Then, by morning, the hair is incorporated into parts that just comb out easily into soft curls.
Get Regular Haircuts
Oh, I envy those with straight hair who can wait a long time between haircuts. I find that it's necessary to go every six weeks (eight at the very most) to get the shape under control and keep curly hair looking healthy.
This year, I stopped taking my girls to the cheap place up the street and now take them to my stylist (it's only $5 more than the chain), and the quality haircut makes a difference.
My stylist knows how to shape curly hair, so I've found it much easier to style. She also suggested that my girls grow their hair out a bit, and now we see that it's laying flatter (especially in the front) instead of sticking out to the sides.
Keep a Positive Attitude
Yes, managing curly hair can be a pain, but I feel very strongly about keeping a positive attitude in front of my curly girls. I fought my curly hair for so many years, and it wasn't until my 20s that I started to work with it instead of against it. Now I love it!
I want my girls to love theirs, too. I don't want them to spend years pining over straight hair and wishing they looked different. They should be proud of their gorgeous hair!
And in the tub…
Of course, when you have really curly hair, you have a lot fall out. So all of the tub/shower drains in our house get clogged pretty often. We've tried so many things over the years!
Right now, we're using these drain protectors to catch the hair. I have always wanted to try the "as seen on TV" TubShroom. Let me know if you have!
Do you have curly girls? How do you manage curly hair?