Sometimes home improvement projects are easier than you think! See how quickly you can paint floor registers to update the look.
This tutorial contains affiliate links. That means that if you make a purchase after clicking on a link, I earn a small commission at no extra cost to you.
We updated our floors at the beginning of the summer. I'm still cheering about no-more-toddler-stained carpet. Whoo hoo!
But having gorgeous, shiny new floors made everything else look a little dingy. Our floor registers, for example, were banged up, scratched, a little rusty, and looked pretty gross.
I headed to my local home improvement store to see what the options were for replacing them. I didn't see any in the same dark wood tone as our flooring, so I thought a rubbed bronze color would be the best bet.
But then I saw the $12+ price tag for each one and decided: nope. I haven't done a home DIY in a long time, but I knew I could paint floor registers.
How to Paint Floor Registers
First things first–gather your materials. You don't need much for this project. Wait till you see how easy painting floor registers can be!
You will need:
You also need a safe place to use spray paint. I went outside and used newspaper to catch the extra paint.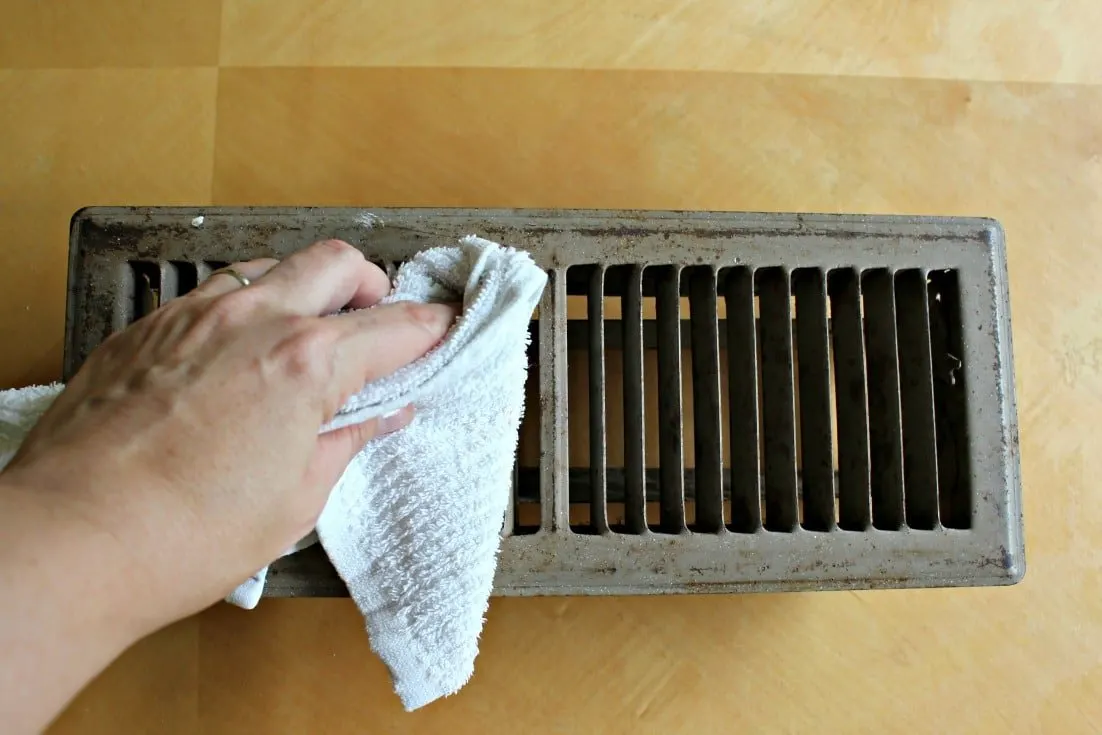 Remove each floor register and give it a good wipe down to remove dust and dirt.
You'll want the surface as smooth as possible (minus scratches and dents) for the primer and paint to adhere.
Head outside, and give each floor register a coat of metal primer. This will give the paint a better surface to stick to.
You are better off doing several very light coats, and be sure to let each layer dry in between.
Once the primer is dry, first do one thin coat of spray paint. I chose oil rubbed bronze so it would coordinate with my dark flooring.
You do not want drips of paint, so do a total of 4-5 light coats to be sure you cover all parts of the metal register.
Let each coat dry before the next one, and be sure the entire thing is fully dry before bringing them back into the house. Honestly, the hardest part of this whole project is the waiting!
I absolutely LOVE how they came out, and this is one of those projects where I said afterward, "Why didn't I do that sooner?!"
If you haven't used spray paint before, updating something small in your home–like these floor registers, a lamp base, or a picture frame–is such a great way to start.
Looking for more budget home improvement?