Give some of these tips a try so you can update your home office on a budget, then tackle every room with frugal home improvement projects.
Is your home office a depressing mix of boring furniture and blank walls? The truth is–you're more productive in a space you enjoy. A makeover can be expensive, though. Thankfully, there are always ways to save money!
How to Update your Home Office on a Budget
This post contains affiliate links. That means that if you make a purchase after clicking on a link, I earn a small commission at no extra cost to you.
Start with a Fresh Coat of Paint
First things first. If you want a quick and inexpensive change, paint your office. Chances are you'll only need one gallon, which means you'll pay less than $40 to freshen up the look and feel of your home office.
Choose a color you love or pick a neutral; either way, a new coat of paint will brighten the room.
Give Good Pieces a Makeover
You may have pieces that are well-made but not exactly your style. The good news is you can do wonders with a coat of paint or stain. Nesting Place has a great tutorial on how to paint furniture in one afternoon. Add new hardware and you've got a brand new piece of furniture.
You won't believe how awesome an old piece can look once it's redone! Don't be afraid to use bright colors or whatever makes you happy.
Hit Your Local Thrift Stores
If you need new pieces, hit your local thrift stores. You can find furniture really cheap. Remember to pay attention to the lines of the piece. You can always paint or stain the pieces to match the look you're going for.
While you're there, you can also look for storage pieces, wall décor, etc. Your home office doesn't have to be boring!
Visit the Dollar Tree
The Dollar Tree is a great place to find supplies and décor for your office. You'll find office supplies, storage containers, wall décor, and so much more. Sometimes, you can even find desk lamps for only a dollar. You never know what the Dollar Tree will have and they always have new items coming in!
Shop Online Home Décor Stores
There are so many home décor stores that offer amazing prices. This is a great option for buying rugs, vases, wall décor, etc.
If you need furniture pieces, and want to buy new, this is also a great option for that as well. Just make sure to shop with a company that offers free shipping. Also make sure to compare prices.

Check Out Facebook Yard Sale Groups
Last, but not least, Facebook yard sale groups are an excellent place to find furniture for your home office. In many cases, people just want to get rid of the pieces. This means they are willing to sell them very inexpensively. You may have to go to the person's house to pick them up so make sure to bring someone with you.
You don't have to spend a lot of money to create an inspiring work space. Work with the pieces you have, find deals at thrift stores and yard sale groups, or even hit your local Dollar Tree. Think outside the box, save money along the way, and update your home office on a budget.
Looking for more budget home improvement?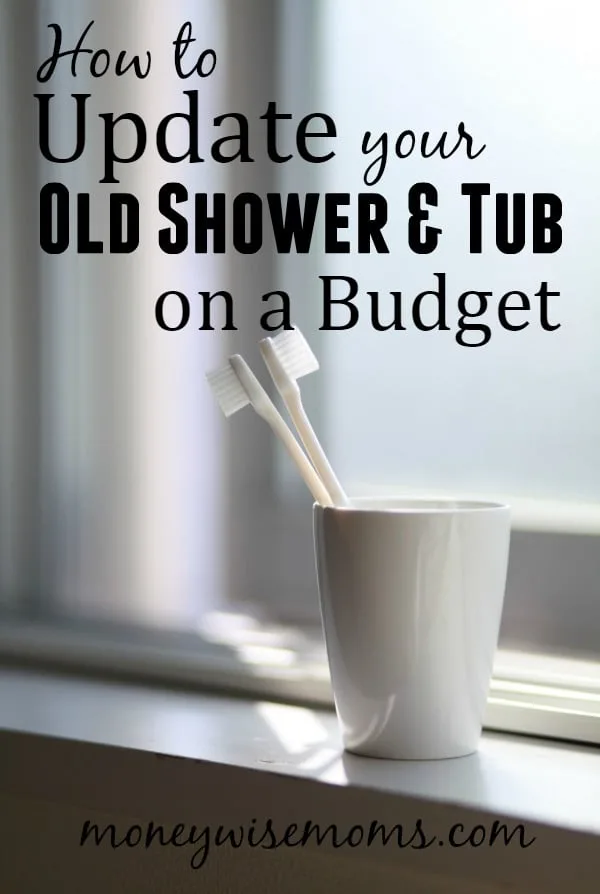 Update your Old Shower & Tub on a Budget