Looking for an easy and frugal way to brighten up your front door this summer? Give this Dollar Tree Summer Wreath a try. And see why it took me so darn long!
This post contains affiliate links. That means that if you make a purchase after clicking on a link, I earn a small commission at no extra cost to you.
I love using Dollar Tree for craft projects. They don't have as much selection as big craft stores, but they have enough to make simple crafts like this cute wreath.
Easy projects like this are perfect for craft nights between a group of friends or members of a Moms' Club. You can even order online if you're looking for a dozen of each item!
For years, I have seen pool noodle wreaths all over the internet, but I had never made one. Spoiler alert–I still haven't!
Since we're a swim family, I loved the idea of using these summery/pool related items to make a cute summer wreath.
Supplies for Dollar Tree Summer Wreath
Three leis
One pair kids' flip flops
Pool noodle
Already had: duct tape, scissors and stapler
That's it! I only spent $5 for this adorable wreath that's a nice pop of color every time we come home.
Instructions for Dollar Tree Summer Wreath
1. Form the pool noodle into a circle and secure with duct tape. This is the perfect size for my front door. However, if you'd prefer the circle be smaller, cut some of the noodle off first.
2. Realize that the roll of duct tape is mocking you. It looked like there was plenty on there, but that was the end of the roll. Remember that they sell duct tape at Dollar Tree. Hmmph.
3. Find the only other large roll of tape in the house, some clear packing tape. Use that to secure the pool noodle.
4. Start wrapping the leis around the noodle, attaching the end of each strand to the noodle with staples because you couldn't find any straight pins in the many boxes of craft supplies you've been holding on to for years now. Remember that they also sell sewing pins at Dollar Tree.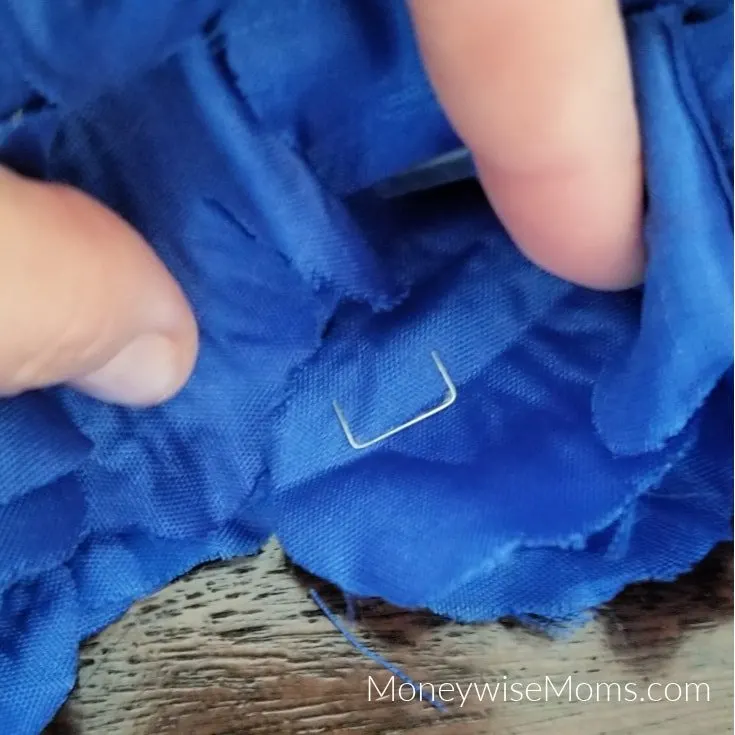 5. Ignore the fact that the staples are not holding as well as you thought they would. But it's okay, because it makes a lot of sense to have staples fall out in the doorway where kids walk in wearing flip flops.
6. The leis will fill all but one spot on the wreath–that's where the flip flops will attach. Realize you didn't think this part through, then use more clear tape and staples to (barely) attach them to the noodle.
7. Snap a photo because it looks so good! Then start cleaning up all the staples and lint. So much blue lint. And loose staples. Hmmm…
8. Hours later, discover the pool noodle has come apart because you didn't use duct tape. Come up with a new plan which involves a hot glue gun.
9. Try gluing the pool noodle ends together and learn that it totally doesn't work. Get super frustrated and make this face.
10. Head back to Dollar Tree and buy a wire wreath form, which you should have done in the first place.
11. (Very easily) wrap the leis around the wreath form. Secure with hot glue (you can also use wire or pipe cleaners). Again, the leis will cover about 3/4 of the wreath form, leaving room for the flip flops.
12. Attach the flip flops to the wire wreath form with hot glue.
13. Attach a piece of string or wire for a door hanger.
14. Hang on front door, take more pictures, and feel confident that it will not fall apart this time.
15. Clean up (again).
Looking back, it should not have taken hours. Or this much trouble. I do prefer easy crafts!
If you tackle this wreath, please do yourself a favor and use a pre-made wreath form. That way, you'll have the whole thing done in less than 10 minutes. And it's still only $5!
With all the colors of leis available, you can adapt this Dollar Tree Summer Wreath for your swim team's colors or to match your own front door. Get creative!
More frugal home decor