There are so many ways to improve your home without spending a lot. Learn some ways to update your style and home decor on a budget.
Your home should be a place that feels comfortable and shows your style. That doesn't mean you have to go on a shopping spree at Pier 1 though!
There are ways to update home decor on a budget. Whether you simply use what you have in different ways or hit your local discount stores, you can get the look you want at a price you can afford.
This post contains affiliate links. That means that if you make a purchase after clicking on a link, I earn a small commission at no extra cost to you.
Rearrange Items or Move Them to a Different Room
Did you know that simply moving items to another space or room can give your home an entirely new look? Sometimes you just need a different layout. Moving furniture around can do wonders, but so can moving one piece of artwork to another room.
Break Out the Spray Paint
Another great tip is to spray paint items you have, but no longer love. Taking a piece that is a color you no longer like and spray painting it a solid white or metallic can instantly improve the look of the piece. This is a great trick to keep in mind when shopping at thrift stores.
If you haven't used spray paint before, updating something small in your home–like these floor registers, a lamp base, or a picture frame–is such a great way to start.
You'll be surprised what fun it can be, and then you have something new-to-you to enjoy!
See What Friends Are Tossing Out
One man's trash is another man's treasure, right? Let your friends know that you're looking to update the look of your home and would like to see anything they are about to toss or donate.
You'll be amazed at what your friends no longer want. And they'll be amazed at how good it looks in a different location or spray painted.
Hit Your Local Thrift Stores, Yard Sales, and Flea Markets
Thrift stores, yard sales, and flea markets are a must when trying to update home decor on a budget. Remember, you can always spray paint items that you like the shape of.
Also, don't be afraid to haggle or ask for a bundle discount at your local thrift store. If you see several pieces you like, add up the total in your head and then make an offer on all of it.
Get Crafty
You can make your own home decor. For example, if you find a large canvas at a thrift store, but hate the painting, use it to create something new. You can paint the entire canvas white or any other color before creating your own creation.
There are also a number of YouTube videos on making inexpensive home decor pieces. I love this Living Room Makeover by Clutterbug.
Shop the Dollar Tree
Last, but not least, the Dollar Tree, surprisingly, has some amazing home décor pieces. Better yet, they keep up with the trends. For example, during the time of this post, the Dollar Tree was carrying farmhouse décor which is really hot right now.
You don't have to spend a fortune to get a new look for your home. There are so many tricks you can use to update home decor on a budget.

Looking for more budget home improvement?
How to Paint Floor Registers – Easy DIY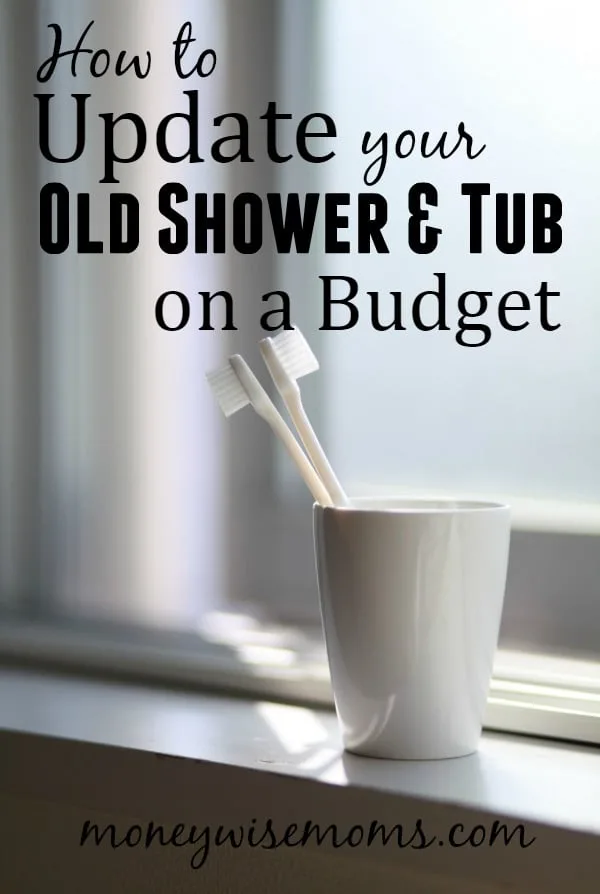 Update your Old Shower & Tub on a Budget