Don't avoid home improvement projects because of the cost. Learn how to update your backsplash on a budget.
Are you looking to update your kitchen without breaking the bank? Adding a new backsplash can be a great way to change up your kitchen.
While you could invest in an expensive tile, there are so many options for saving money. Give these tips a try!
6 ways to update your backsplash on a budget
This post contains affiliate links. That means that if you make a purchase after clicking on a link, I earn a small commission at no extra cost to you.
Add a Fresh Coat of Paint
If you have drywall behind your kitchen cabinets, consider simply adding a fresh coat of paint. This is by far the cheapest method for updating your backsplash. Don't be afraid to choose a bold color! In most cases, one quart of paint will be enough to get the job done.
If you do happen to have old tile in your kitchen, you can actually paint tile. This is much more affordable than ripping out the current tile and replacing the drywall.
Lastly, you can use paint to create a tile look, like Shrimp Salad Circus does with this Faux Subway Tile Painted Backsplash tutorial. You'll save so much money for the look you want!
Use Wallpaper or Vinyl Decals
Instead of dealing with tile, grout, and all the mess, apply some peel-and-stick options for a faux backsplash. You'll find faux subway tile, faux shiplap, and other current trends. Lolly Jane has a faux subway tile wallpaper tutorial, and the result is fantastic!
Use Plastic or Tin Panels
You can find plastic and tin panels that are easy to install and very affordable. Some only require that you cut them to fit and peel off the back before sticking them to the wall. It doesn't get any easier than that.
You can find these panels in home improvement stores, and the peel and stick variety are available through a number of online retailers. Crafty Little Gnome shows how easy it is to create this great look in their Faux Tin Kitchen Backsplash tutorial.
Visit a ReStore
If you have just a tiny backsplash area to update, visit your local Habitat ReStore. This is where people donate their unused materials.
At the ReStore, you can often find tile that can be used in your small projects. This can save you so much money!
Search the Clearance Section of Home Improvement Stores
Another place to find small amounts of tile is in the clearance section of home improvement stores. Contractors often return unused supplies.
Often, you can find enough for your project for very little money. Don't be afraid to think outside the box! You can mix two different kinds of tile to create a beautiful design while still saving money.
Get Creative
Last, but not least, don't be afraid to get creative. Use peel and stick vinyl flooring planks as a backsplash. You could also use flat-backed gems from the craft section or even bottle caps in place of tiles.
It just depends on the look you're going for. See what clever way Natalie repurposed flooring in her DIY Faux Tile Kitchen Backsplash post.
A backsplash doesn't have to be expensive. There are so many options that allow you to give your kitchen a brand new look without breaking the bank. Whether it's tin panels or clearance tile, you can do it on a budget.
More budget home improvement: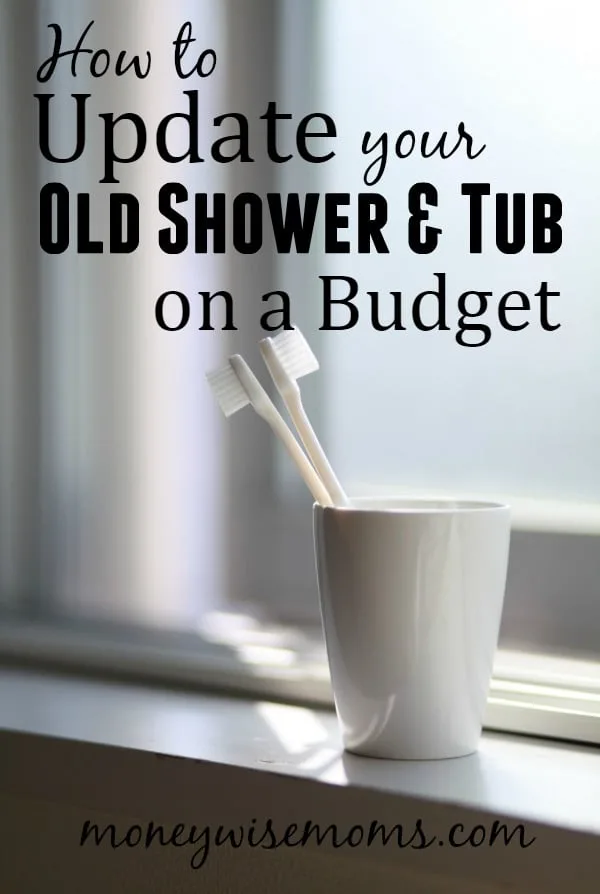 Update an Old Shower and Tub on a Budget