Homemade salad dressing?! Are you nuts?! I don't have time for that.
I said that for years. Now I make it all the time and don't think twice about it.
Homemade dressing tastes SO much better. Plus there's no chemical additives, no corn syrup, no MSG, no 20+ ingredients on the label. Just 8 real food ingredients I keep in my kitchen anyway.
My family loves this Homemade Balsamic Vinaigrette Dressing, and I think yours will, too. With summer veggies coming into season, backyard gardens prepping for harvest, and lots of potlucks in your future, now is a great time to add this deliciously easy recipe to your repertoire.
This vinaigrette is also great drizzled over grilled or roasted veggies like asparagus or zucchini, and it makes a great marinade for grilled chicken or pork.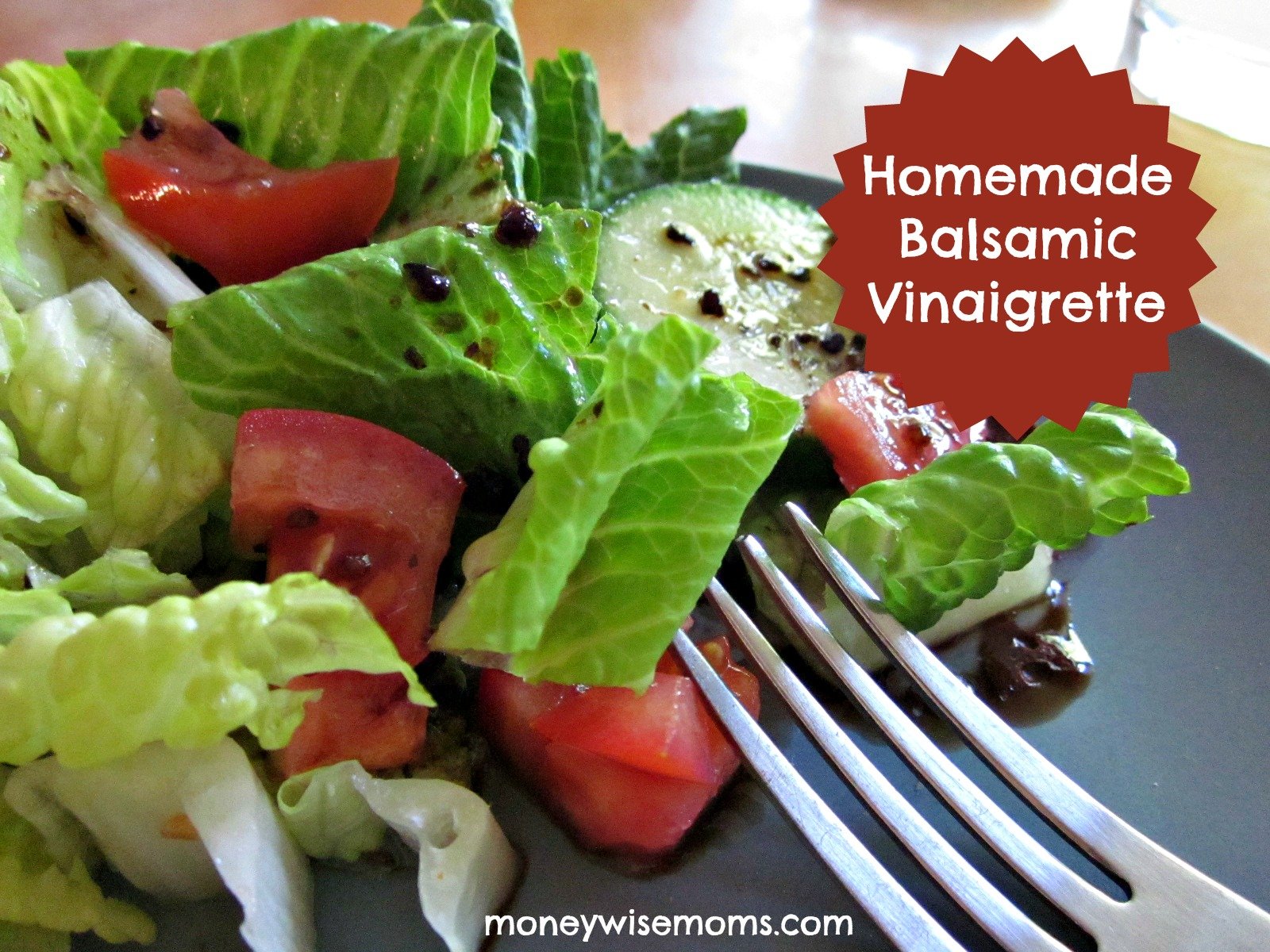 Homemade Balsamic Vinaigrette Dressing
You can make this dressing in any plastic or glass container, even a mason jar.
After years of saying "I should make my own dressing," it was this simple tool that finally got me to do it: the Pampered Chef Measure, Mix & Pour. It has four different dressing recipes printed right on the container. Now I have absolutely no excuse!


Even my kids can follow the directions on the side and be proud of their dressing at the table. I love that it's dishwasher-safe, so after storing it in the fridge door till we run out, I just run it through the dishwasher and we make a new batch.
Homemade Balsamic Vinaigrette Dressing
Ingredients
1/2 cup balsamic vinegar (I use Trader Joe's)
1/4 tsp salt
1/4 tsp onion powder
1/4 tsp dried basil
1/2 tsp dried oregano
2 pressed garlic cloves
1 Tbsp sugar
1 cup olive oil
Instructions
Combine all ingredients in plastic or glass container.

Shake or stir to combine, especially just before pouring.
Notes
More vegetable side dishes
Brussels Sprouts with Bacon and Shallots
Homemade Balsamic Vinaigrette Dressing is linked up to Fluster's Creative Muster Party at Fluster Buster, Thrifty Thursday at Living Well Spending Less, The Party Bunch Linky Party at The Idea Room and Pinterest Foodie Linkup at Real: The Kitchen and Beyond.