Whether you waited till the last minute this holiday season, or you're looking for inexpensive birthday gifts for the future, this list of Kids Gifts under $5 will help you out.
I love to keep a few inexpensive kid gifts on hand in my "gift closet" so we're always ready when a birthday sneaks up on us. You don't have to spend a ton of money–any of these $5 kid gifts would make a sweet little treat to make someone feel special.
This post contains affiliate links. That means that if you make a purchase after clicking on a link, I earn a small commission at no extra cost to you.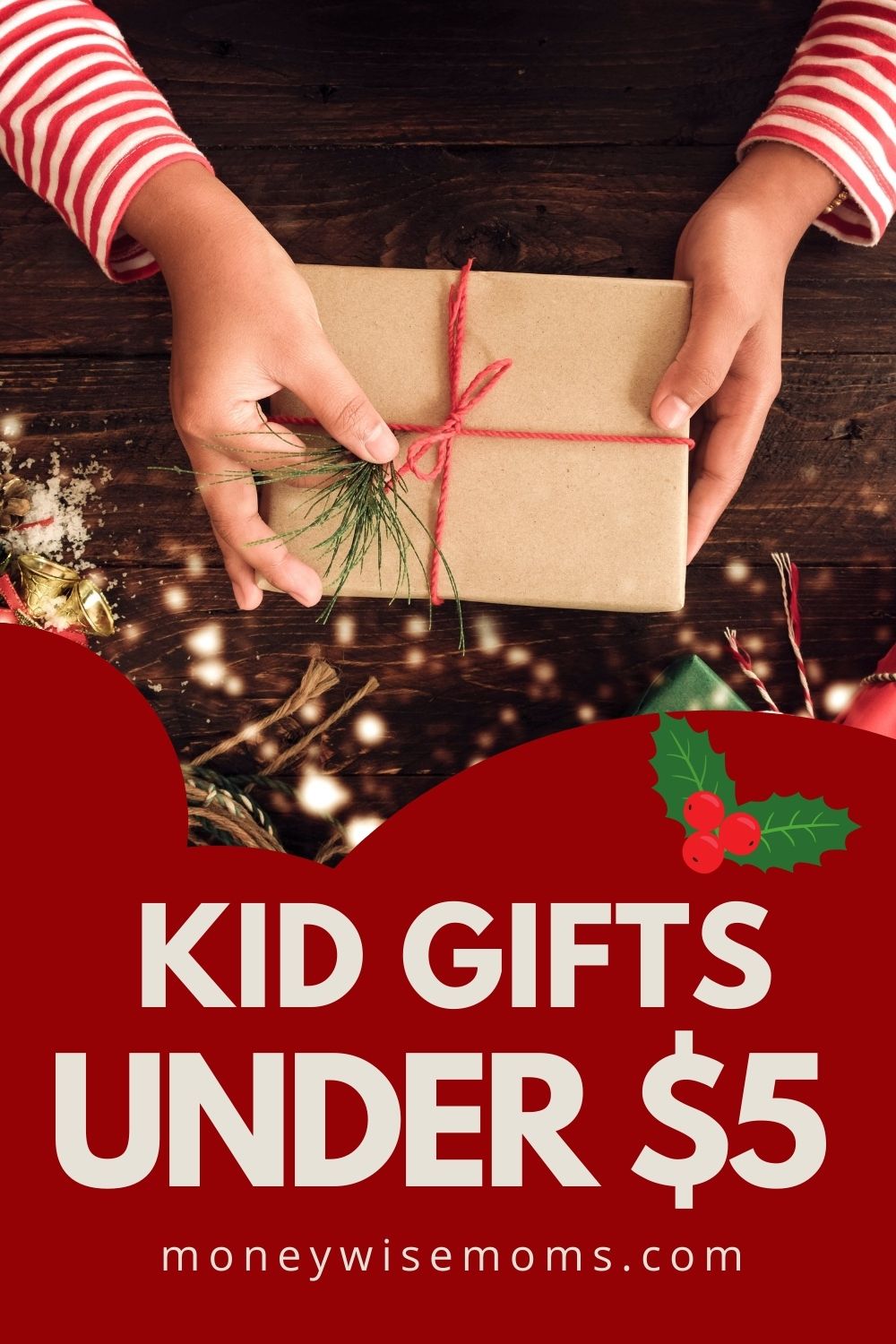 We all know that shopping for kids can be tricky and challenging. It becomes even more difficult if several birthdays and holidays are coming and we are on a budget. They would love video games and gift cards, but we just can't afford those. Well, here's some good news. I found great $5 gifts for kids on Amazon – adorable, affordable stuff made just for them!
The easiest and fastest way to shop is with 2-day shipping from a FREE 30-day Trial of Amazon Prime.
$5 Kid Gifts from Amazon
This unicorn foal toy is a collectible unicorn toy full of glitters, perfect for imaginative and collaborative play. With its humble size and cheap price, you wouldn't think that this one would help kids move through their developmental changes, but it can! It can be part of a significant part of a child's open-ended play session and can further ignite their imagination and creativity.
Skeleteen Funny Nose Pencil Sharpener
How to encourage your children to write and draw more? Give them this Funny Nose Pencil Sharpener set as a gift. Each pack comes with four strangely shaped sharpeners that are made of safe and non-toxic materials. These comical supplies are so fun to use not just in school but also in the office!
A pencil grip prevents a child's middle finger from cocooning, helping him or her develop and maintain a good grip posture. This set of colorful pencil grips are created to cultivate their creative talents and at the same time encourage them to write more. They are so durable and can be used thousands of times!
This art set is one of the best gifts out there for future artists. These products feature beautiful patterns and colors underneath a coating. Kids just need to scratch the surface and then they can doodle, trace, sketch, and more! Amazing art creations in less than $5.
Dondor 'Superhero' Rubber Bracelets for Children
Young boys and girls love things colorful and fashionable! And this set of rubber bracelets may just suit their style. Some would just wear these to parties, but many others would love to wear them every day. With expressions like "Boooom," "Ka-Pow" and "Wham," wearing these will make them feel like superheroes.
Are you having a hard time convincing your children to stay away from gadgets? Fidgeting helps improve focus, most especially while reading and studying. It's not a distraction nor a boring item! It can help them feel preoccupied through small, unique movements.
From a fidget cube to a magic cube. This educational puzzle is a great gift for developing minds. It's challenging and provides a good source of entertainment for bored kids. They can even compete with friends on who can solve the puzzle the fastest!
Dice games are easy to play, entertaining, and can keep children preoccupied for hours. Backgammon? Boggle? Monopoly? Dungeons and Dragons? Your children can play anytime as long as they have this dice set. You never have to worry again about misplacing one.
Fine tip pens are ideal for all types of drawing and writing, most especially when it comes to working on intricate patterns. Young people who love journaling will surely fall in love with this set. It will help them achieve good letter spacing and formation. Moreover, the ink dries fast and doesn't bleed through paper.
Sloth My Spirit Animal Notebook
Not all children enjoy writing in journals, so when a youngster from your family loves it, you need to find something that can encourage him or her to write more. This journal with a super cute sloth cover is a wonderful gift for would-be writers. An oversized notebook waiting to be filled with big thoughts and big dreams!
Inspirational Phrase Stickers for Hydro Flasks and More
Hydro flasks are getting more and more popular, and it's not only because of their durability and vacuum-sealing technology. These posh bottles can be customized, thanks to cheap colorful stickers that can be found everywhere. This sticker set contains 100 vinyl inspirational stickers with high-definition printing. Very easy to stick and peel off without any residues.
Cute Animal Funny Sleep Eye Mask
Very few children realize the importance of getting long, restful sleep. They always end up playing outside or going out with friends instead of sleeping early. Here's something that can encourage them to sleep earlier and relax more often – a cute doggie sleep mask! This doggie sleep mask is flexible, durable, and can efficiently block light. Our kids can use it while traveling, too.
Cheap gifts don't always equate to tacky items! For less than $5, you can buy your sister, nephew, niece, or friend a can coolie professionally printed with cute unicorns. It's literally "sprinkled" with small, smiling unicorns! It's one of the most affordable gifts on this list, but 100% delivers. It really can keep beverages cold even during the hottest days.
Help transform someone's room into a relaxing shimmering night sky. This set of 400 glow-in-the-dark stickers are made from safe, waterproof materials. It includes one luminous moon and 401 stars of different sizes. Believe it or not, looking at these cheap, glowy decorations can nurture calmness and help kids (and even adults!) fall asleep quickly and peacefully.
In case you don't know yet, many teens today love wearing denim jackets with embroidered patches. They continuously look for cheap, distinct designs that they can sew in their favorite jackets. This alien patch set is composed of three identical aliens. It comes with iron-on hot glue on the backside, making it easy to attach to jackets, backpacks, and caps. Sewing along the edges is important, though, for the patch to be more stable!
Marvel Band-Aid Adhesive Bandages
Character bandages have been around for quite a while, but not Avenger bandages. This box contains 20 superhero bandages that efficiently protect minor scrapes and cuts from germs and dirt. Yes, superheroes treat wounds, now, too. Perfect for young kids, but I heard even teens and adults also love this!
The best giveaways are the most useful ones. This cable holder set is a valuable present for older children, specifically for techy ones who charge a number of gadgets at the same time. It contains 16 pieces of cable clips with a strong adhesive force, meaning it can be stuck on various materials such as glass, wood, and even on iron surfaces.
This blue bucket hat is durable, reversible, and excellent for everyday wear. It's suitable for youngsters of all genders or pretty much anyone who wants to express their unique style even while going to the nearest coffee shop or grocery store. Very cheap, casual, and well made.
Arts and crafts are not for everyone, but these small hearty smile stickers can brighten up anyone's day – everyone will love it! Teens can use the stickers on their school supplies and other decorations around their room. They'll never run out of hearty smiles since each pack includes 100 pieces of stickers.
More organization supplies? Here are two pouches they can bring to school (or anywhere they want). Inside can fit quite a lot of pencils, highlighters pens, and even some sticky notes. Despite the very low price, its zippers are so well made and can last for a long, long time.
Cookie socks are everything! Just imagine your sister, child, nephew, or niece wearing this while eating sandwich cookies and watching a cooking show. It's comfortable with a deliciously unique pattern and attention-grabbing crew silhouette.
Crocs Jibbitz are cute characters, images, and letters mounted on the holes of Crocs shoes. They are literally colorful shoe charms, allowing people to personalize their footwear based on their own unique style. Choose the best ones that mirror your personality – there are mushroom, star, cactus, seashell designs, and more!
Need more gift ideas?