We don't eat out much, but when we travel, obviously we end up spending time in restaurants. We're past the coloring phase, so now we have a new way to entertain ourselves while we're waiting at a restaurant. It's a game they play on one of our favorite podcasts, Good Job Brain!, called 30 Seconds to Glory. It is fast-paced, gets us talking and laughing, and everyone learns a little something. It's the best restaurant waiting game!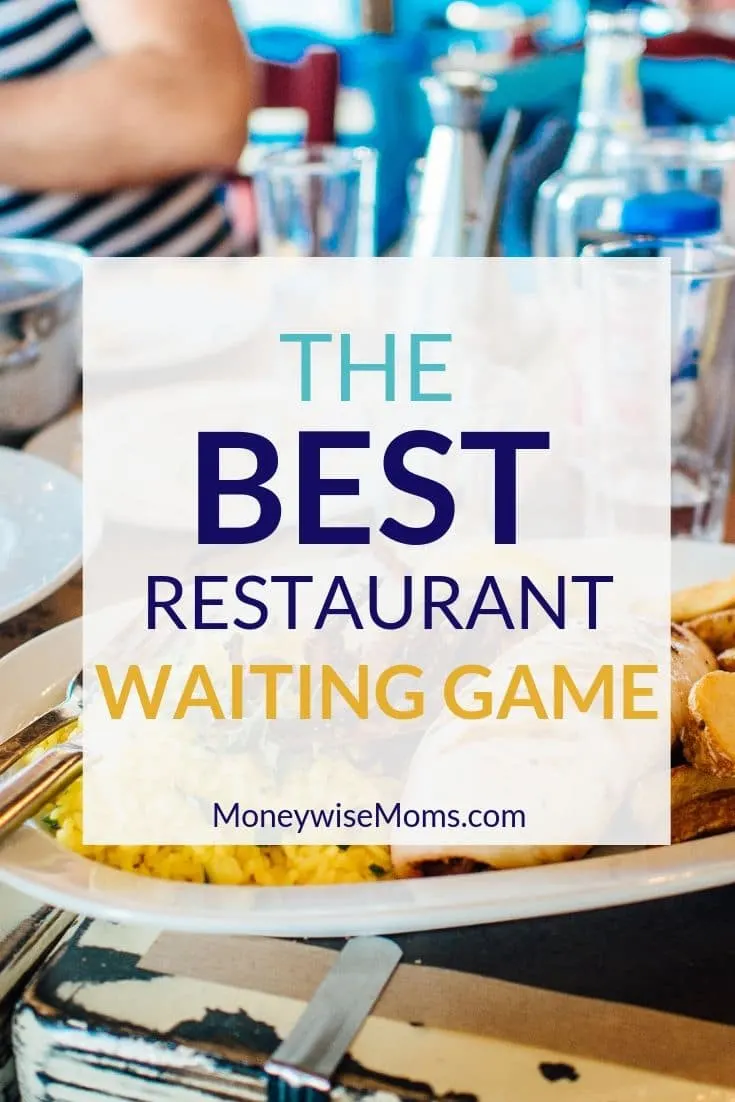 When to use the best restaurant waiting game:
We use this game whenever we head out to a restaurant to eat. It's not often when we are at home but when we travel we do have to eat out for some of our meals. I love playing this game with my family while we wait because it's entertaining. As the kids grow and change so do their answers and it's a fun way to engage as a family unit while also keeping everyone happy and focused on something besides being hungry!
This is also a great choice if you have kids who are over the coloring stage and don't want to do the little mazes on the kids menus anymore. Those electronic things keep popping up at restaurants but I'm not usually interested in paying for my kids to play a silly game on a screen while we wait! This is much more fun for the whole family, not just the kids!
If you are having a party or gathering at your home this is usually a hit then as well! It's like Scattergories, only with less rules and a more relaxed approach. You can really have a lot of fun with this game no matter the time, place, or setting!
How to Play the Best Restaurant Waiting Game:
It's really quite easy! Each player needs a piece of paper and something to write with. We use the "Clock" feature on a smartphone as our 30-second timer.
Go around the table, and each player gets a turn to choose a category.
During that turn, the other players have 30 seconds to write down as many items in that category as they can, as fast as they can. It's faster than you think!
How Do I Get Points In This Game?
When the 30 seconds is up, each player reads out what they've written.
If anyone else has the same answer, they both cross it out, and no point is scored.
For every unique answer, a player gets a point. With our family of five, we do five rounds so that each player scores four times.
What are some category ideas we can use?
Almost anything can be a category!
My son likes to choose very specific categories like Adventure Time Characters, but you can go the other way and choose a very broad category like Colors.
With a huge category like fruit, vegetables, or colors, the strategy is to think of unusual answers that are unlikely to be written by the other players.
Some of the other categories we've used are Dinosaurs, Female Superheroes, Restaurants, Newspaper Comic Strips, Boys Names that Start with R, and Movies about Space.
What if we have younger kids…
If you have a younger child or one that has trouble writing quickly, consider putting that player on a team with a parent. We've done that a few times, and it evens the playing field a bit so that one child isn't always behind the rest of the group.
What is your favorite restaurant waiting game?
How do you pass the time with your kids while you wait for your food in a restaurant? Do you play games? Color? How do you keep them entertained so that they're not bored or upset while waiting for their meals to arrive? If you were stumped by any of these questions I'd highly recommend you give the best restaurant waiting game a try!