Whether you're visiting the DC area or live here, you should check out all the Washington DC theme parks! Our thrill-seeking family loves roller coasters, so we love traveling to theme parks.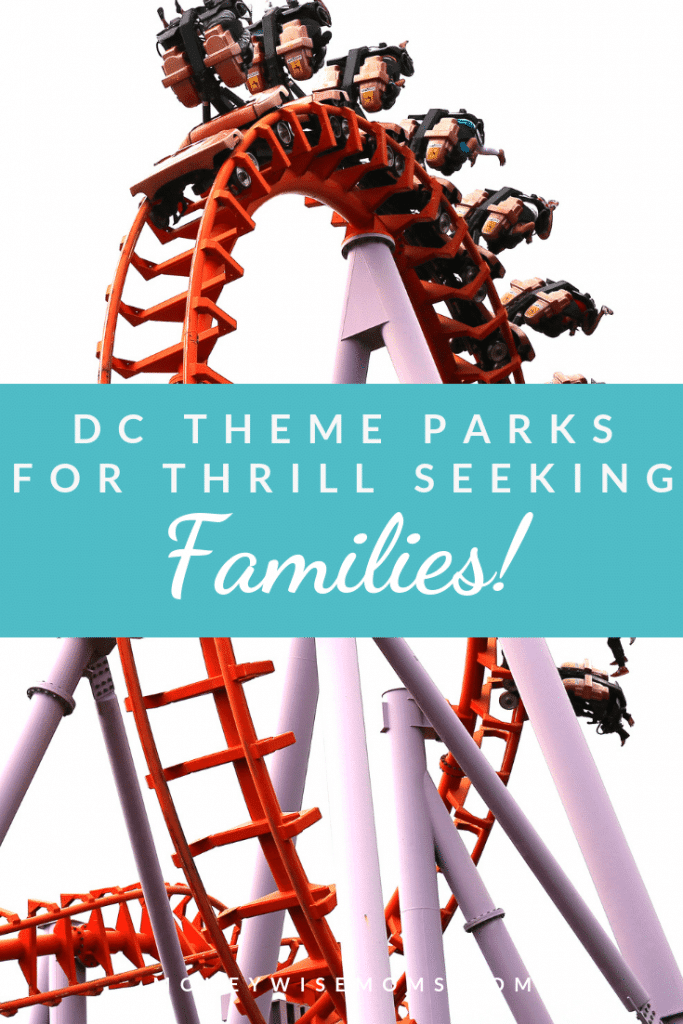 Living here in the Washington DC metro area, there is no shortage of things to do. One of my families' favorite pastimes is riding big, scary roller coasters.
As parents, you always hope your kids will love the same things you love. While we failed on some–like Star Wars fandom–we succeeded on theme parks, rides and roller coasters in particular. Our three just love riding coasters with us.
Visiting DC with your family? After going to theme parks near DC, head out to these 20 FREE places to visit with tweens and teens. And take a look at Certifikid for discount deals!
DC-area Theme Parks
This post contains affiliate links. That means that if you make a purchase after clicking on a link, I earn a small commission at no extra cost to you.
How far are these theme parks from DC?
Some of these thrill ride theme parks are just a short drive from DC; others are day trips. If you're up for it, take a road trip and spend an overnight at one of these theme parks within 3 hours of DC.
For each park, I'm listing the mileage from DC rather than how long it takes to get there. Like any large metro area, the traffic here can be outrageous. So depending on day of the week, time of day, and season of the year, I recommend planning ahead for your drive to take longer than you think it will.
For example–technically, we live about 150 miles from Busch Gardens Williamsburg. But our drives to and from have taken anywhere from 2.5 hours to almost 5 hours (during beach season, on a Saturday morning). Summer construction on major highways was announced in the local news months ago. Do yourself a favor, and plan ahead.
The 3 Closest Washington DC Theme Parks
75 miles south in Doswell, VA
Fun Fact: Until recently, the 1986 "Kings Dominion Law" meant Virginia kids couldn't start school until after Labor Day. For us, that meant they didn't end until the last week of June. By then, the rest of the country was almost done with summer break. So weird.
Also: Despite going to KD for the past 10 years, we had never seen nor ridden the indoor coaster Flight of Fear until last month. Still don't know how that happened, but it was super fun and now one of our favorites!
155 miles south in Williamsburg, VA
Fun Fact: Busch Gardens has been voted The Most Beautiful Park by NAPHA members 29 years in a row! The landscaping is truly gorgeous.
Also: Busch Gardens has a focus on animal rescue and conservation, so we love to see the eagles, wolves, birds and more when we visit.
18 miles east in Woodmore, MD
Fun Fact: You can see the Washington Monument from the top of Superman: Man of Steel if it's a clear day!
Also: Only 1 of the 5 of us has been to this park. That needs to be remedied.
Do these DC theme parks have water parks?
Yes, they all do. But my family has never been as interested in water parks as we were for regular rides and roller coasters, so I haven't included those details here.
Parks that are a Day Trip from DC
The DC metro area is massive, consisting of Maryland, DC and Virginia, but there are so many great family travel destinations nearby that lend themselves to day trips. If you're not a fan of driving a few hours after a long day at a theme park, find an inexpensive family hotel to do an ovenight.
130 miles north in Hershey, PA
Fun Fact: When I was a kid, I dreamt of going to Hershey Park because chocolate = life. Once I found out they closed the actual factory, I lost interest.
Also: So many of my friends tell me I will enjoy the coasters there, so this is on the 2019 To Do list.
Still on our roller coaster bucket list
When my husband and I were first married, we would watch Discovery Channel shows about roller coasters and dream of a day we could tackle them all. We were especially intrigued by Kennywood, but since we lived in Los Angeles, it wasn't possible. Now that we live in the DC area, it's only 4 hours to Kennywood yet we still haven't gotten there!
This is not a day trip, of course, because we're not willing to drive that far after a long, hot day at a great theme park. So that's an overnight, which means planning, which is probably why it hasn't happened yet. But I'm moving it up on the bucket list to be done by 2020!
230 miles northwest in West Mifflin, PA (outside Pittsburgh)
Fun Fact: Kennywood opened in 1898, and it still has structures and rides dating back to the early 1900s.
Also: When I was a kid, I assumed Kennywood was related to Dollywood, in that it must be named after Kenny Rogers because of his duet "Islands in the Stream" with Dolly Parton.
How do you get your kids to like roller coasters?
Start them off small. I don't mean dinky rides in the mall, though we did do that, too.
Start them off with a positive experience like Dutch Wonderland. I'm counting this as a DC-adjacent theme park because it can technically be done in a day trip. You're not as tired and they'll sleep on the way home. It's a win-win.
Truthfully, Dutch Wonderland is how we got all three of our kids interested in coasters. They had so many great years trying rides out there, particularly the two kiddie coasters. Then you can transition to the kiddie coasters at Kings Dominion in Planet Snoopy.
122 miles north of DC in Lancaster, PA
Best for ages 2-8 (and more timid 9-12 year-olds)
Fun fact: This was my favorite park for many years because there are no teens making out in the ride lines.
Also: This is how I learned to buy group tickets and get super discounted (and free) tickets for my family.
Recommendations for theme parks
Most amusement parks in Washington DC and across the country now require you to put your belongings in lockers rather than carry them onto rides. Some will let you wear a fanny pack, even on a coaster. I like having one to hold my glasses. And don't forget the sunscreen!
Save when visiting theme parks
More Washington DC
Must-Haves for Washington Nationals Fans
20 Free Things to do in Washington DC