My family has tried so many different meatloaf recipes over the years. We've decided this is the Best Turkey Meatloaf we have ever made! We added and subtracted ingredients to get it just right. Now it's one of our family favorite recipes.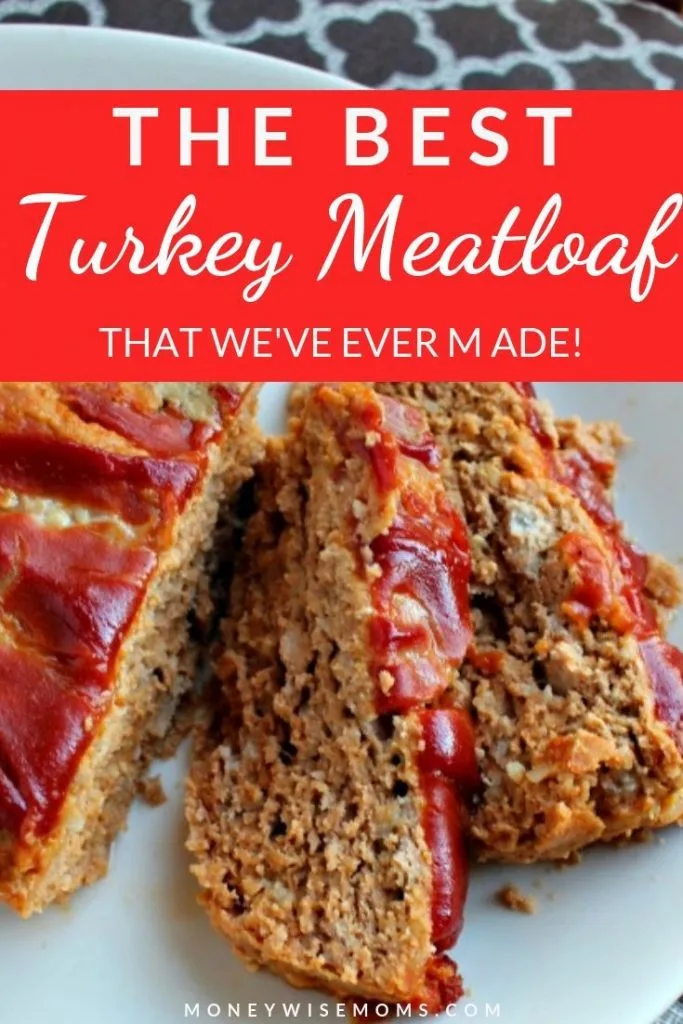 This post contains affiliate links. That means that if you make a purchase after clicking on a link, I earn a small commission at no extra cost to you.
What makes this the best turkey meatloaf recipe?
Besides being delicious, I love how incredibly easy this meatloaf is! Basically, you mix all the ingredients in one bowl, press it into the loaf pan, and bake.
This meal is so simple that my tweens and teen know how to make turkey meatloaf, and it comes out great each time. They feel so accomplished! If your kids are younger, let them help with measuring and mixing.
You may have noticed that packages of ground turkey come in different sizes. For some reason, they're often 20 ounces rather than 1 pound like ground beef. This easy recipe is meant for a 20-oz package. We love how moist and juicy this meatloaf comes out!
If you use more or less ground turkey, keep in mind that you want the dry bread crumbs to balance out the moistness of the turkey and the other wet ingredients, so you may need to change the amount accordingly.
How to make Turkey Meatloaf
This recipe just can't be any easier! Start by separating out the mustard, ketchup and Worcestershire sauce that will go on top.
Then, put all the other ingredients into one large bowl. I use a rubber spatula to mix it all up.
Press the meatloaf mixture into a prepared loaf pan. If you don't have one, just shape it into a loaf and bake in a 9×12 baking dish instead.
Spread the sauce of ketchup, mustard and Worcestershire on top, and let it bake!
Is this a gluten-free turkey meatloaf?
It is not, because it uses breadcrumbs. If you prefer, use gluten-free breadcrumbs or check out How to Make Meatloaf without Bread Crumbs, which uses oats instead.
When is turkey meatloaf done?
I use a digital thermometer to be sure that the ground turkey reaches 165 degrees. Remember that after it bakes for an hour, you want to let it sit for at least 5 minutes.
That's why we often don't make this on weeknights, there just isn't time!
Is there any way to make it faster?
Yes, just use a cupcake tray instead of a loaf pan. Spray each cup with nonstick cooking spray, then press the meatloaf mixture in until 3/4 full. Bake at the same temperature, but check the temperature at 35 minutes.

What side dishes go with turkey meatloaf?
This easy turkey meatloaf is one of our favorite weekend dinners! We usually make baked potatoes and Roasted Brussels Sprouts to serve on the side.
Another favorite is Roasted Broccoli and Cauliflower. Next time, I'd like to try these Oven Roasted Parmesan Green Beans from Ann's Entitled Life.
If you're eating low-carb, just skip the starches and serve turkey meatloaf with a large salad or other side dish vegetables.

What do I need to prepare this turkey meatloaf?
I have a tiny kitchen, so I value each and every item in it. I don't keep anything that doesn't get used often! These are my favorite supplies to make this turkey meatloaf:
Can I eat turkey meatloaf on Weight Watchers?
I've been doing WW Freestyle since March 2017, so I have added this Turkey Meatloaf to the app since we make it so often!
With regular ground turkey (not the 99% fat free kind), each serving is 8 Freestyle points. I love to fill the rest of my plate with zero-point vegetables or salad.
Looking for more ground turkey recipes?
Printable meatloaf recipe:
Yield: 8 servings
The Best Turkey Meatloaf
This delicious ground turkey meatloaf mixes up in one bowl. Such an easy family meal!
Total Time
1 hour
10 minutes
Ingredients
20 oz ground turkey
1 cup ketchup, divided
1 cup bread crumbs
3 teaspoons Worcestershire, divided
1/4 teaspoon pepper
2 cloves garlic, minced
1 egg, beaten
2 teaspoon mustard
Instructions
Heat oven to 375 degrees. Prepare a loaf pan with nonstick cooking spray.
In a bowl, mix turkey, 1/2 cup ketchup, bread crumbs, 2 tsp Worcestershire, pepper, garlic, onion flakes and egg.
Press mixture into loaf pan.
Mix remaining 1/2 cup ketchup, 1 tsp Worcestershire and mustard to make sauce. Spread evenly over the top of meatloaf.
Bake uncovered for 60 minutes or until internal temperature reaches 160 degrees.
Let stand 5 minutes before removing from pan.
Recommended Products
As an Amazon Associate and member of other affiliate programs, I earn from qualifying purchases.
Nutrition Information:
Yield:
8
Serving Size:
1
Amount Per Serving:
Calories:

280
Total Fat:

14g
Saturated Fat:

4g
Trans Fat:

0g
Unsaturated Fat:

8g
Cholesterol:

98mg
Sodium:

475mg
Carbohydrates:

19g
Fiber:

1g
Sugar:

8g
Protein:

21g