Whether you're looking for an art studio or workshop, you can update an old shed to meet your needs. Use these ideas to do home improvement on a budget.
Do you have a shed on your property that you never use? Instead of tearing it down, why not update it so that you can use it for a variety of projects?
Ways to Update an Old Shed
This post contains affiliate links. That means that if you make a purchase after clicking on a link, I earn a small commission at no extra cost to you.
Repair Any Issues
First things first. You need to repair any problems. It might be loose floorboards, a leaky roof, a broken window, etc.
Usually, these are things you can do yourself, but if you do need to hire someone these issues are small enough to be very affordable.
Do the door hinges need to be updated? Choose a decorative hinge for a nicer look!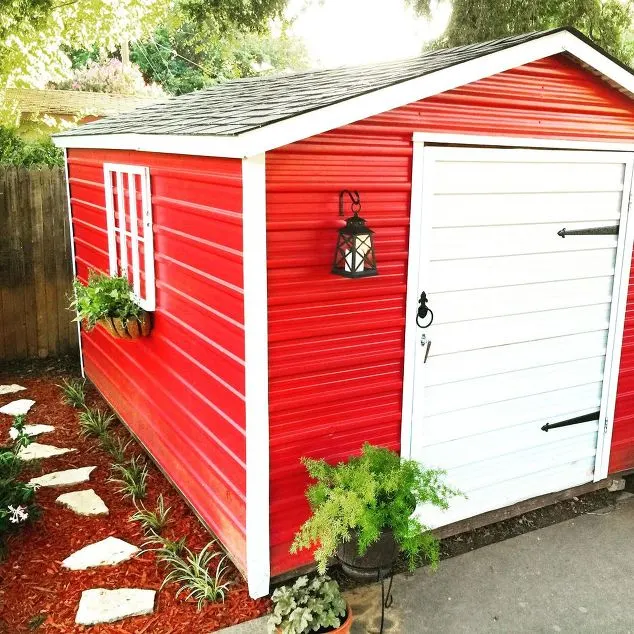 Paint
After the shed is in tiptop condition, you can paint it to give the building an updated look. Paint the walls and trim in contrasting colors. You can't go wrong with barn red and white.
You can also paint your shed to match your house. Paint will help protect the building from the elements. If you want to paint the inside, it will make the shed feel more like a room than an outbuilding.
Run Electricity
If you add electricity to your shed, you can get a lot more use from it. It might be a place to store a freezer, a place to work on projects with power tools, or even a place for your kids to hang out with a game table.
If you do want hard wiring, be sure to bring in a professional so you don't end up burning down the shed (or your house).
Want light without electricity? Install a pretty ceiling pendant that runs on solar power!

Add Storage and Countertops
Once you decide on a purpose for your shed, you'll know exactly what you need, but basic cabinets and countertops will allow you to work on a variety of projects.
You could even make a desk so that you could write the next great novel. The sky's the limit!
Use as an Extension of Your Home
Last but not least, now that your shed has been updated, add everything you need for it to be an extension of your home.
Just like you have a living room, this might be a craft room or music studio. Whatever it is, make it feel like an actual room so that you're more likely to use it.
Add an outdoor rug, add some furniture, and bring in some artwork, etc. Amy from MomAdvice turned her shed into a bonus room with shelving, seating, and more.
That old shed could be a game room or workshop waiting to happen. With a bit of time and money, you can update the building to meet your needs. Best of all, you can do it on a budget.
Looking for more budget home improvement?