These delicious smoked salmon pinwheels are a simple pinwheel appetizer that is packed with flavor.
Smoked salmon and cream cheese combine with fresh dill for a burst of flavors. This recipe for salmon pinwheels is another of our easy pinwheel appetizers.
This recipe makes approximately 24 pinwheels, depending on the size of your tortillas and how you slice them. Prepping for a party? This recipe is simple to double so you can whip up as many salmon and cream cheese pinwheels as you need.
This post contains affiliate links. That means that if you make a purchase after clicking on a link, I earn a small commission at no extra cost to you.
salmon and cream cheese pinwheels are typically served as an appetizer, but they're also useful for snacks or "fancy" lunches. My kids used to enjoy taking party food in their lunchboxes when they were younger.
Our smoked salmon tortilla pinwheels do have dairy, so they need to stay chilled before serving.
Not a fan of smoked salmon? Here's a similar pinwheel recipe that's vegetarian with a ranch cream cheese spread.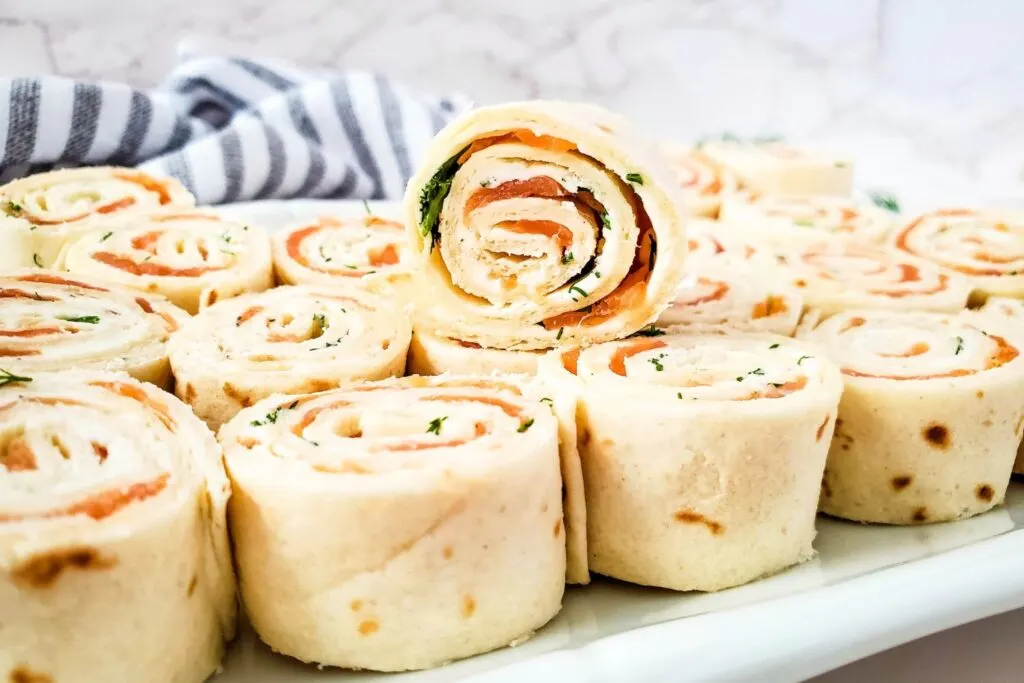 What is smoked salmon?
Smoked salmon is a versatile fish that has been cured and then slowly smoked over wood chips. The smoking process gives the salmon with a rich, smoky aroma and a delicate texture.
Whether enjoyed on its own, served on a bagel with cream cheese, or added to salads and pasta dishes, smoked salmon offers a unique taste that is both savory and satisfying.
Is smoked salmon cooked?
Yes, smoked salmon is considered cooked during the smoking process. The smoking process involves exposing the salmon to low heat and smoke for an extended period, which effectively cooks and preserves the fish.
It is important to note that while smoked salmon is cooked, it is typically served chilled or at room temperature and is not typically reheated before consumption.
Ingredients for smoked salmon tortilla pinwheels
Simple recipes are a favorite here at MoneywiseMoms, and this recipe for salmon pinwheels is just that! You only need:
Of course, you can change up the tortillas if you need to. You'll find low carb tortillas in most stores. You may need to use more than four, though. You can also try whole wheat tortillas or flavored ones.
How to make salmon cream cheese pinwheels
Start by chopping the salmon and dill. Set aside.
Add the cream cheese and ranch seasoning to a bowl, and stir until well-combined.
Lay out the tortillas, add ¼ of the mixture to each, and gently spread it to the edges.
Sprinkle smoked salmon and chopped dill on each tortilla.
Starting at one end, roll each tortilla until you get to the other end. Wrap in plastic wrap to hold together, and refrigerate for 1 hour.
Before serving, cut the ends off of each tortilla roll, and cut into 1 inch pieces. Arrange flat on a platter or tray for serving.
More easy appetizer recipes to try
All the recipes here at MoneywiseMoms are easy! So if you need more ideas for tasty appetizers, take a look at our:
Printable recipe for smoked salmon pinwheels
Yield: 24 pieces
Smoked Salmon Pinwheels
Smoked Salmon Pinwheels are made with a ranch cream cheese mixture, smoked salmon and fresh dill, then rolled in a flour tortilla.
Total Time
1 hour
20 minutes
Ingredients
4 large flour tortillas
8 oz cream cheese, softened
6 oz smoked salmon, chopped
2 sprigs fresh dill, chopped
1 Tablespoon dry ranch seasoning
Instructions
Chop the salmon and dill.
Add the cream cheese and ranch seasoning to a small bowl, and stir well until combined.
Divide the mixture evenly between the 4 tortillas, and spread across the entire surface.
Divide the salmon between the tortillas, and then sprinkle dill over them.
Roll the tortilla up tightly, then wrap in plastic wrap and refrigerate for 1 hour, or until ready to serve.
Once ready to serve, unwrap the tortilla rolls, and slice into one inch pieces, discarding (or snacking on) the ends.
Nutrition Information:
Yield:
24
Serving Size:
1
Amount Per Serving:
Calories:

69
Total Fat:

4g
Saturated Fat:

2g
Trans Fat:

0g
Unsaturated Fat:

2g
Cholesterol:

11mg
Sodium:

245mg
Carbohydrates:

5g
Fiber:

0g
Sugar:

0g
Protein:

3g