Try these Easy Crockpot Meals for family dinners. These slow cooker recipes are great additions to your weekly menu plans.
This post contains affiliate links. That means that if you make a purchase after clicking on a link, I earn a small commission at no extra cost to you.
It's almost here–another school year will start soon! And for many families, that also means fall sports, and extracurricular activities, and homework, and busy weeknights. And oh, yeah–you still have to feed your family. Every. single. night.
It's time to break out old faithful–the family crockpot. By planning some simple meals and using slow cooker recipes, you can get a healthy meal on the table easily. Need some new recipes to jazz up your back to school season?
Easy Crockpot Meals for Back to School
Most of the easy crockpot meals we make give us leftovers, so I like to pack them for lunch for my three kids. We use the Thermos Funtainer Food Jars for keeping foods warm in their lunchboxes, and they last forever!
The Funtainers we have are 6+ years old and still going strong. We just reheat last night's dinner in the microwave, load up the Thermoses, and lunch is ready to go.
Beef
Slow Cooker Italian Sloppy Joes – MoneywiseMoms
Slow Cooker Beef Stew – MoneywiseMoms
Slow Cooker Korean Beef – It Is A Keeper
5-Ingredient Slow Cooker Pot Roast – Fearless Dining
Super Easy Slow Cooker Lasagna – Thrifty T's Treasures
Crockpot Stuffed Pepper Soup – Living Sweet Moments
Slow Cooker Beef Pho – Sidewalk Shoes
Slow Cooker Sweet Potato Chili with Beef – Farm Fresh Feasts
Slow Cooker Steak Fajitas – Slow Cooker Gourmet
Crockpot Italian Beef Sandwiches – The Gracious Wife
Crockpot Beef and Broccoli – Life in the Lofthouse
Chicken
Crockpot Pineapple Chicken – MoneywiseMoms
Crockpot Greek Chicken – A Mom's Take
Slow Cooker Chicken Thighs & Veggies – Six Dollar Family
Slow Cooker Chicken Noodle Soup – Must Have Mom!
Crockpot Orange Ginger Chicken – Faith Filled Food for Moms
Slow Cooker Rosemary Chicken, Sausage & Mushrooms – Culinary Ginger
Slow Cooker Chicken Parmesan – Sweep Tight
Crockpot Sweet and Sour Chicken – The Jenny Evolution
Slow Cooker Tomato Basil Chicken – There's a Cook in my Kitchen
Red Beans & Rice in the Slow Cooker – A Pinch of Healthy
Pork & Ham
Slow Cooker Pork Ragu & Fettuccine – MoneywiseMoms
Slow Cooker Honey Lime Ginger Pork – The Recipe Critic
Crockpot Pulled Pork Gyros – Freebie Finding Mom
Maple and Brown Sugar Pork Tenderloin – Six Sisters' Stuff
Ham and Potato Soup – The Typical Mom
Slow Cooker Chile Verde – A Girl Worth Saving
Kale and White Bean Soup (with bacon) – Nourished Kitchen
Ham and Scalloped Potatoes – Bargain Briana
Crockpot Cranberry Pork – Your Home Based Mom
Slow Cooker Hawaiian Pork Chops – La Creme de la Crumb
Vegetarian
Slow Cooker Pesto Minestrone – SoFabFood
Easy Crockpot Macaroni and Cheese – Thrifty Jinxy
Crockpot Enchilada Quinoa – Moms With Crockpots
Slow Cooker Potato and Corn Chowder – Damn Delicious
Super Easy Skinny Veggie Crockpot Lasagna – Pinch of Yum
Slow Cooker Three Bean Chili – Aberdeen's Kitchen
Slow Cooker Broccoli and Cheese Soup – Well Plated
Crockpot Mushroom Stroganoff – Amuse Your Bouche
Slow Cooker Frittata with Artichoke, Roasted Red Pepper and Feta – Kalyn's Kitchen
Classic Vegetable Soup – One Green Planet
Take some time now to plan out meals for the first few weeks of school. You'll thank yourself later! I do this every August and then it's easy to glance at my plan and make a grocery shopping list each week. It saves time and stress, and we have plenty of healthy meals all month.
Need more easy crockpot meals?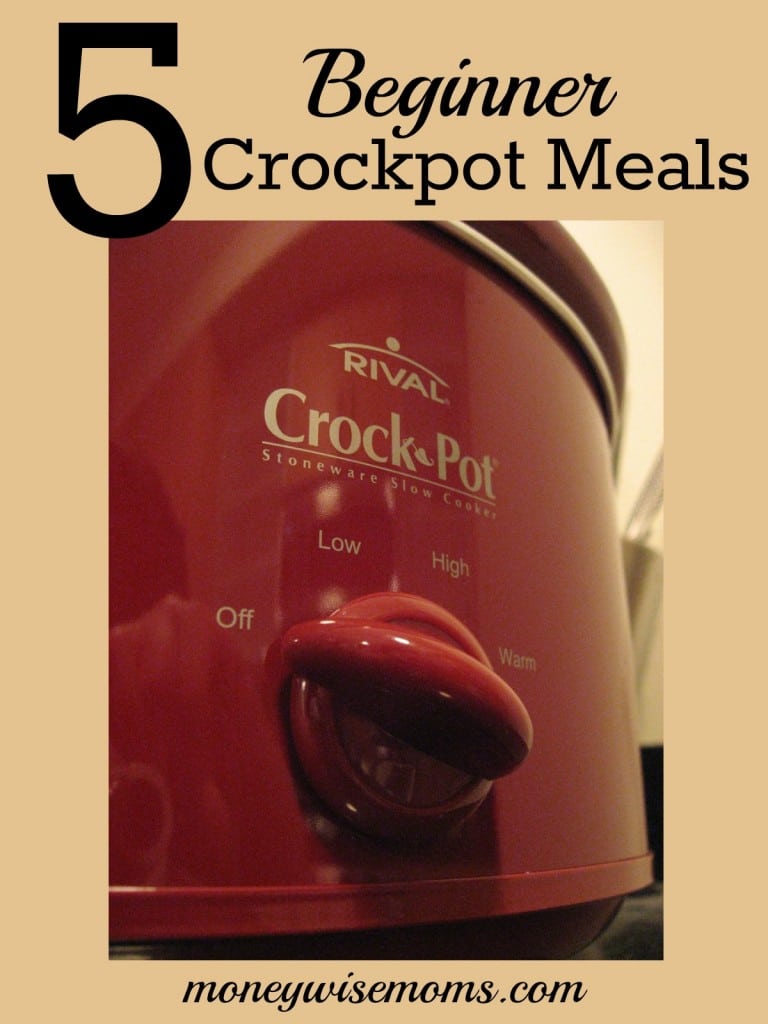 Beginner Crockpot Meals that Anyone Can Make
Crockpot and Slow Cooker Recipes
This post was originally published in 2016 and sponsored by TapInfluence.