Homemade muffin recipes come in so handy during the school year. They're perfect to put in lunchboxes or to serve as afterschool snacks.
This post contains affiliate links. That means that if you make a purchase after clicking on a link, I earn a small commission at no extra cost to you.

Thinking about all the snacks and treats your kids will go through this school year? Rather than spend a lot on pre-packaged snacks, consider these homemade muffin recipes.
We take a little time on the weekend to bake up a batch of muffins, then put some aside for lunchboxes and afterschool snacks. The rest go in the freezer to use another week.
Each of these recipes uses real foods and include fruit and fiber, so they're healthier than what you're seeing advertised right now for back to school season. Plus, by making them at home, you're saving a lot of money.
For our lunchboxes, I like to use a standard mini muffin pan, since the smaller muffins fit nicely. As a rule of thumb, if a recipe doesn't have directions for mini muffins, cut the time to 2/3 of the regular-sized, then check it for doneness with a toothpick.
Homemade Muffin Recipes
Chocolate Chip Wheat Mini Muffins are such a nice lunchbox treat. Just a little bit sweet, but with added fiber.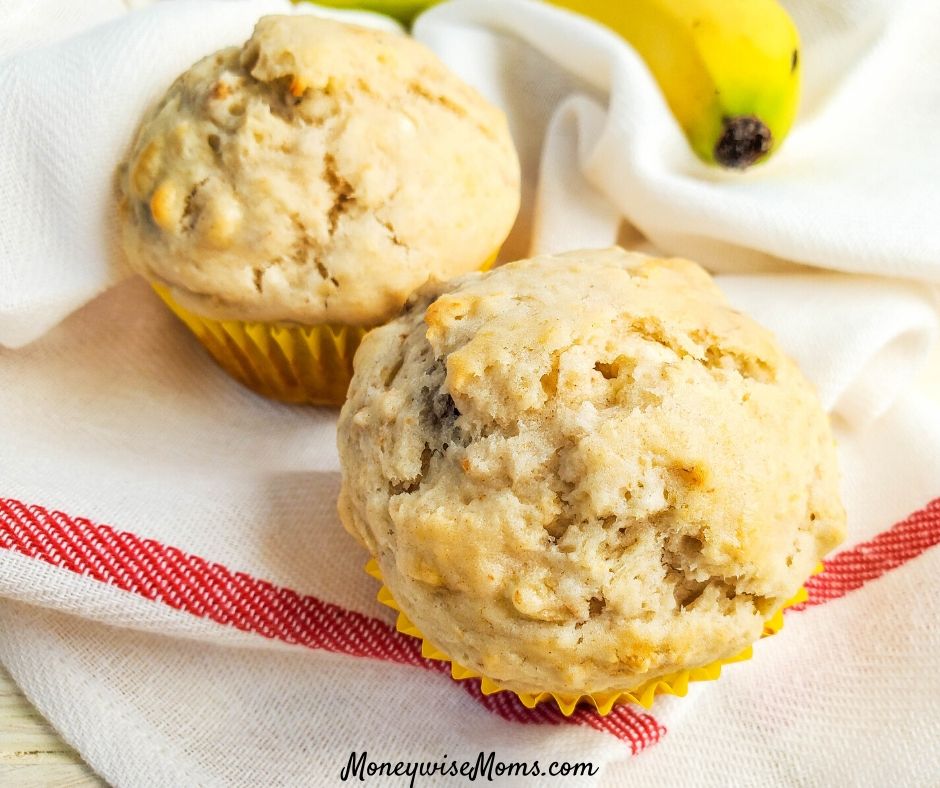 Banana Walnut Muffins only need one ripe banana to make a batch! The walnuts add texture to this fluffy muffin recipe.
These Chocolate Banana Muffins look rich and indulgent, but they're still made with whole wheat.
My kids love these Whole Wheat Pumpkin Chocolate Chip Muffins. They're a fall favorite!
These Whole Wheat Cinnamon Muffins have a crispy, sweet edge and a wonderful flavor.
These Blueberry Oatmeal Muffins are a great breakfast-on-the-go since they're filled with healthy oats, flaxseed and fruit.
If you like the addition of oatmeal to muffins, Banana Oatmeal Muffins should be on your baking list. They freeze well and also make a great take-along breakfast. They're great with or without chocolate chips!
Brown Sugar & Maple Muffins are delicate and just the right amount of sweet.
Whole Wheat Blueberry Muffins are easily made with either fresh blueberries (still in season now!) or a bag of frozen ones (the rest of the year).
This Apple Muffins recipe is so simple, it's a great way to get started with making your own.
These Banana Blueberry Breakfast Muffins have the protein of Greek yogurt and fiber from oatmeal and whole wheat flour. They make a great on-the-go breakfast if you make them full-sized.
This is my favorite on the whole list! These Orange Cranberry Muffins have the most amazing fragrance and are perfect with a cup of tea.
What are your favorite homemade muffin recipes?